Wanted: More girls in Engineering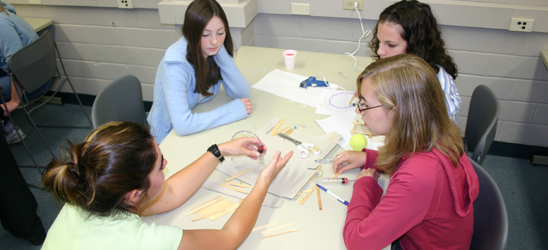 The testosterone that usually fills the Spencer Building Engineering Building was taken over by teenage girls, eager to learn about the field of engineering, Saturday, October 15.

Nearly 90 female students in grades 7 to 10, and their parent/guardian, attended the first annual Go ENG Girl program at Western - a program developed in response to declining female enrolment in engineering across Ontario, Canada and the US.

"Our goal with this event was to challenge and dispel continuing stereotypes about the profession as being male only and to highlight the wide range of new careers that have opened up in engineering that would be attractive to women," says Márta Ecsedi, P.Eng., Chair of the Go ENG Girl Organizing Committee, and Advisor to the Dean on Women's Issues, University of Toronto, Faculty of Applied Science and Engineering.

The female students had the opportunity to conduct hands-on activities while the parents/guardians attended a panel discussion consisting of a female Western Engineering staff member, faculty member, student and two alumni.

"I really enjoyed the panel discussion," said Chere Schneider, who brought her daughter Caitlyn Campbell and her friend Rachael Muma from St. Thomas. "It was interesting to hear the panelists' stories. I have a lot to tell the girls about on the way back to St. Thomas."

Chere's daughter and her friend also enjoyed the day.

"My dad is an engineer so I wanted to come today to learn more about what he does," explained Rachel, a grade eight student from Homedale Senior Elementary School in St. Thomas. "I learned a lot about what engineers do. Stuff I never even thought about before. I just thought they built bridges or drove trains."

Caitlyn said she also learned a lot about engineering, but she enjoyed the water purification system workshop the best.

"The workshop was really cool," she explained. "I didn't think we would get it to work, but we did. I was really excited when the water came through so clean."

The water purification system workshop was set-up for girls in grades 7 to 8 and was led by Western Engineering students from Women in Engineering, Engineers Without Borders and Discover Western. The project challenged the girls to build a device out of an empty water bottle, and other materials, to purify dirty water.

The girls in grades 9 to 10 participated in a biomedical engineering workshop led by Discovery Western students and Western Engineering grad student, Rebecca Austman. In this workshop, the girls were asked to design and build a robotic arm using a syringe, glue, Popsicle sticks, elastics and a cereal box.

"The project is meant to simulate a prosthetic arm," explained Rebecca. "The girls' design should be able to pick up a tennis ball and move it a few inches."

When the day was all said and done, the girls and their parent/guardian were asked to fill out a survey. 85% of the girls who completed a survey said they were interested in studying engineering at university.

"This is a great sign for the future of engineering," says Cynthia Dunning, Mechanical Engineering professor and co-organizer of Western's Go ENG Girl program. "The profession of engineering has changed over the years. It is really a caring profession. We develop artificial limbs for example and work with the environment - the opportunities are endless for women."


Also from this web page:
Contact
.:Allison Stevenson
Spencer Engineering Building, Room 2074
Telephone: (519) 850-2917 Fax: (519) 661-3808 contactWEATeng.uwo.ca
---