Western Engineering Students Promote Engineering
National Engineering Week took place nation-wide Saturday, February 26 - Sunday, March 6. Communities across Canada recognized this week as an opportunity to raise public awareness of the importance of engineering and technology in our daily lives and to encourage young people to consider careers in engineering and technology.
Western Engineering students took advantage of this week to promote the Faculty of Engineering at Western, and the engineering profession as a whole, by holding various events at the university and within the community.
Engineers Without Borders (EWB)
K'NEX Construction Workshop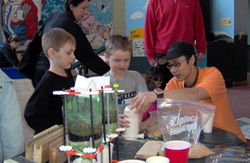 February 26 - February 27
March 5 - March 6
London Regional Children's Museum
EWB Western presented demonstrations of water filtration and how it is used in developing countries at the London Regional Children's Museum.
Engineers Without Borders (EWB) Day
Thursday, March 3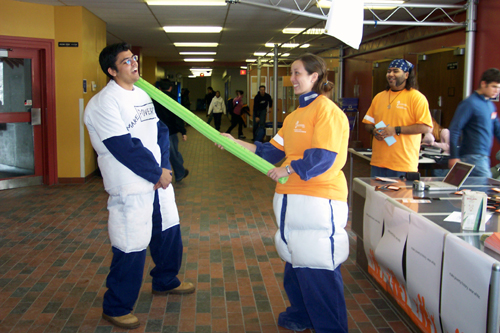 EWB Western held an event to promote the International 'Make Poverty History' campaign. EWB Western members donned Sumo Suits and wore t-shirts that said "Poverty" and "Hunger." Anyone interested had the opportunity to take out their frustrations towards world poverty and social injustice on the Sumo Suit clad EWB members, with the help of a pool noodle.
Western Engineering Bonanza (WEB)
Thursday, March 3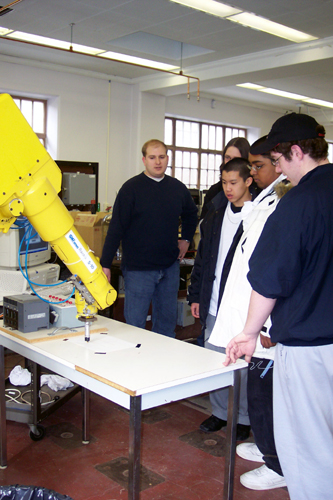 Over 150 local high school students and teachers attended WEB, an annual event hosted by UES. Students and teachers from 15 different schools arrived around 9:00 am and were welcomed by Associate Dean, Hesham El Naggar with an overview presentation of Western Engineering. After the presentation, the students were split into groups to participate in hands-on demonstration workshops led by various faculty members. After lunch, the students worked in teams to build a motorized pop can car out materials provided by UES.
Overall, the day was a huge success. Teachers commented that the day was very well organized and value added for their students. When one high school student was asked to sum up the day, he chose just one word - "Sweet."
Click here to view more pictures from WEB...
Guiding Exploring Technology - Scouting Exploring Technology (GETSET)
Saturday, March 5
The London Chapter of the Ontario Association of Certified Technicians and Technologists (OACETT) will hosted a variety of activities for Guides and Scouts to explore technology with interactive displays, technical demonstrations, indoor and outdoor challenges and off-site tours. One of the off-site tours included The University of Western Ontario, specifically the SunStang solar car team.
Professional Engineers of Ontario, Lambton Chapter Annual Dinner Meeting
Saturday, March 5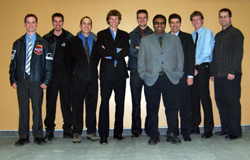 SunStang was highly involved with National Engineering week at Western. They conducted presentations at WEB and during the GETSETProgram, however the highlight of the week for SunStang was delivering the keynote address at the Professional Engineers of Ontario, Lambdon Chapter's National Engineering Week Annual Dinner. Imran Atcha, Project Manager of the SunStang Solar Car Project, presented the keynote address to a wide audience of Professional Engineers.

The presentation began with an overview of the SunStang Solar Car Project and the importance of student design projects to engineering. SunStang's rich history was presented with its beginnings in 1993 through to SunStang's experiences at their most recent race at the Formula Sun Grand Prix in Topeka, Kansas. The future of the SunStang Solar Car Project was explored, including the North American Solar Challenge in 2005 from Austin, Texas to Calgary, Alberta and the World Solar Challenge in 2005 across the Australian continent. The technical systems of the project were reviewed in detail. These systems included the mechanical systems, electrical systems and extended to the manufacture of the vehicle. The one hour presentation was concluded with a question period.

SunStang thanked the Professional Engineers of Ontario Lambdon Chapter for their generous $300 donation to the Adopt-A-Cell Program and their invitation to present at the National Engineering Week Annual Dinner with a new SunStang Golf Shirt. Tom Gwozdz should be recognized for his work on the presentation. SunStang members present at this excellent networking opportunity included Dr. McIssac – SunStang's Faculty Advisor; Imran Atcha, SunStang Project Manager; Brian Coulter, Jim Eckert, Craig Follett, Tom Gwozdz, Greg Lindstrom, Chris Lohnes, Warren Rinas and Kevin Vecmanis.
For more information on SunStang, please visit www.eng.uwo.ca/sunstang