Who are "WE?"
Get to know Jennifer McMillan, Chemical Engineering graduate student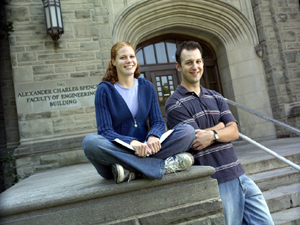 ---
How long have you been affiliated with Western Engineering?
Five and a half years. I completed my undergraduate degree in chemical engineering at Western and then started my grad studies in May 2003. I am currently a PhD candidate and am working in the area of fluidization, focusing on jet-bed interaction for the fluid coking process.
What is the first thing you would do if you were Dean of Western Engineering?
I would hire Dr. Berruti as my assistant. He is doing such an excellent job as Dean. Tips from him would be very useful.
What do you like most about Western Engineering?
I like the fact that Western Engineering is a close-knit community, where everyone supports and encourages each other. Due to the relatively small class sizes you get to know the people in your class well, which promotes a friendly and positive atmosphere.
What was the last book you read?
The Curious Incident of the Dog in the Night-Time, by Mark Haddon.
What have you always wanted to try?
Skydiving.
What advice would you give to someone considering a career in engineering?
You need to be willing to commit the time to a very challenging work load. You must be able to organize your time to balance schoolwork and recreational activities.
On a typical day, what would we find in your lunch box?
Half a sandwich, an apple, a pink grapefruit drink box and some cookies.
What is your favourite movie?
Braveheart.
Which engineer (famous or not) do you respect the most?
The engineer that I respect the most is my uncle. He went back to school after he had a family and took mechanical engineering. He now owns his own company and is very successful. It was a lot of hard work to raise a family and go to school full-time, but he had a goal and he persevered and achieved it and I admire that dedication.
Tell us about your favourite spot on campus.
My favourite spot on campus is the courtyard in the centre of the engineering building. It's usually a quiet, secluded area and is a good place to go and relax and maybe do some work in a peaceful, outdoor environment.
How has Western Engineering changed since you've been involved with the Faculty?
The Faculty of Engineering has grown significantly since I was a first-year student. The enrolment has increased over the 5 years I have been here, and there are many new facilities in the new Thompson Engineering Building. Also, the curriculum has changed significantly since my first-year.
What is your most memorable moment at Western Engineering?
My most memorable moment at Western Engineering was the Iron Ring Ceremony. After all of the work that you have gone through during your undergrad, receiving the ring is tangible evidence that you are a part of a respected profession.
What are you most proud of accomplishing over the past five years?
I am most proud of being on the Dean's honour list all 4 years of my undergraduate engineering studies and that I graduated with distinction.
---
If there is someone in Western Engineering you would like to learn more about or if you would like to be profiled yourself, contact Allison Stevenson via email (astevenson@eng.uwo.ca), telephone (ext. 82917) or stop by her office (SEB Room 2074). Your comments and feedback are also greatly appreciated.