Who are "WE?"
Get to know Rob Jelenic, third-year Electrical Engineering student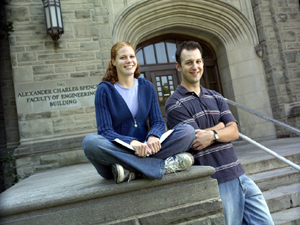 ---
How long have you been affiliated with Western Engineering?
I am in my third-year of electrical engineering at Western. Besides being an undergraduate student, I am also the Team Manager of Western Engineering's SAE Mini Baja Off-road Racing Team. Because of this, I've had a lot of involvement in showcasing the student mega projects to potential students, faculty, staff, and industry professionals.
What is the first thing you would do if you were Dean of Western Engineering?
I would set-up a central body in the Faculty to oversee the existing student projects, as well as facilitate new ones. There is a lot of talent in this Faculty. It would be great for the design culture of the Faculty if students were encouraged more to form new teams and design projects.
What do you like most about Western Engineering?
The flexibility. I like the fact that no matter what your interests are, you have your first year to figure things out. You can also enrol in concurrent degrees already set-up, or form news ones based on your individual interests. Also, faculty members in each department collaborate a lot around campus with other faculties. This results in some very interesting research opportunities.
What was the last book you read?
The Social Contract and Discourse on the Origin of Equality, by Jean-Jacques Rousseasu.
What have you always wanted to try?
Skydiving. I'll probably try it this summer.
What advice would you give to someone considering a career in engineering?
Do a lot of background research and find your interests, and then follow them. It can be a very long four years if you're studying something you don't like.
On a typical day, what would we find in your lunch box?
Two sandwiches, a bottle of water, and a granola bar.
What is your favourite movie?
At the moment, The Life of David Gale.
Which engineer (famous or not) do you respect the most?
Leonardo Da Vinci. He was a painter, an engineer, and many other things. Anyone who can paint a canvas like he did, and invent a helicopter has my respect.
Tell us about your favourite spot on campus.
Spencer Engineering Building, room 1076, working on the Mini Baja car. I wish I could just do that for a living. The number of hours I've spent in that room would be staggering if I were to add them up.
How has Western Engineering changed since you've been involved with the Faculty?
First of all, first-year students now have to take ES050 instead of ES025 and ES029a/b. It would've been interesting, but from the sounds of it, a lot of work.
Secondly, the addition of the Annex in Spencer Engineering Building and the construction of the Thompson Engineering Building.
What is your most memorable moment at Western Engineering?
Probably the fake test during frosh week in my first-year. Western Engineering really had me scared there.
What are you most proud of accomplishing over the past five years?
By far, building a race car and representing Western while competing against some of the most well-known universities in the United States.
---
If there is someone in Western Engineering you would like to learn more about or if you would like to be profiled yourself, contact Allison Stevenson via email (astevenson@eng.uwo.ca), telephone (ext. 82917) or stop by her office (SEB Room 2074). Your comments and feedback are also greatly appreciated.