Who are "WE?"
Get to know Lauren Briens, faculty member in the Department of Chemical & Biochemical Engineering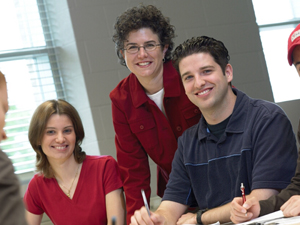 ---
How long have you been affiliated with Western Engineering?
I joined Western Engineering in 1990 as a transfer student from Biochemistry. In 1994 I graduated with a BESc and obtained my PhD through Western's Chemical Engineering grad school in 2000. I then became a professor in chemical engineering at Western in 2001.
What is the first thing you would do if you were Dean of Western Engineering?
It is such a difficult and complex job. I'm not sure what I would do first.
What do you like most about Western Engineering?
The students.
What was the last book you read?
The Program, by Gregg Hurwitz.
What have you always wanted to try?
To learn how to make stained glass windows. My grandfather made some beautiful pieces.
What advice would you give to someone considering a career in engineering?
Go for it!
On a typical day, what would we find in your lunch box?
Yogurt and a banana.
What is your favourite movie?
Top Gun.
Which engineer (famous or not) do you respect the most?
Hana Zalzal. She is founder and president of Cargo Cosmetics. She was trained as a civil engineer at The University of Toronto and shows that you can use your engineering degree and go on and do almost anything with it. The engineering degree provides an amazing base for so many career possibilities.
Tell us about your favorite spot on campus.
The new Beryl Ivey Garden. I walked past it every day in the summer as it was being built and I cannot wait to see how it looks in the spring.
How has Western Engineering changed since you've been involved with the Faculty?
The Faculty has grown tremendously. It is easier/faster for me to list the profs that taught me as an undergrad than to list the profs that have since joined the department.
What is your most memorable moment at Western Engineering?
There are so many that it is difficult to choose. It was wonderful to have my Dad "ring me".
What are you most proud of accomplishing over the past five years? Raising happy and healthy boys.
---
If there is someone in Western Engineering you would like to learn more about or if you would like to be profiled yourself, contact Allison Stevenson via email (astevenson@eng.uwo.ca), telephone (ext. 82917) or stop by her office (SEB Room 2074). Your comments and feedback are also greatly appreciated.