Volume 1 - Edition 7
December 10, 2004
Careers Evening with Alumni

Thursday, November 18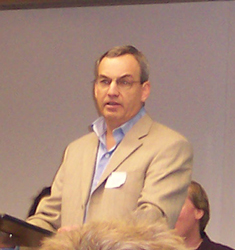 "Your goals determine your future." That was the main message keynote speaker, Gary Mottershead, BESc '75, MBA '77, now President, GCP Elastomeric Inc. presented to future Western Engineering grads at Western Engineering's 2nd Annual Careers Evening with Alumni.
Approximately 70 Western Engineering students attended the event and heard Mottershead's motivational speech titled, "Your Career...Whose Life Is It Anyway? YOURS!"
"Choose your own path and experience it all," explains Mottershead. "The future is determined by your decisions and decisions are based on your goals." During his 20-minute speech, Mottershead asked the audience to close their eyes and imagine where they see themselves in 25 years. He instructed the group to think about what goals they need to achieve their dreams. Upon opening their eyes, everyone wrote down what they saw and the goals they need to achieve their dreams. Mottershead hopes they will keep this list and refer back to it in 25 years time.
After his inspirational speech, Mottershead joined a panel of Western Engineering alumni to answer questions from current Western Engineering students. The panel included Andrew Kooiman, BESc '85 (Electrical) now Manager, Transport and Infrastructure Engineering; Maisy Mukkattu-Chunilall, BESc '01 (Mechanical) now Manager, International Trunk Servicing - Bell Canada; and Matthew Ng, MESc '92, MBA '01, now Market Development Supervisor - 3M Canada.
Associate Dean, Dr. El Naggar introduced the panel of Western Engineering Alumni.
Panel (left to right): Maisy Mukkattu-Chunilall, Andrew Kooiman, Gary Mottershead and Matthew Ng
Gary Mottershead gave an inspirational speech on setting goals and making them happen.
Gary asked the audience to close their eyes and think about where they would like to be in 25 years.
Participants opened their eyes and wrote down where they saw themsleves in 25 years.
Lesley Mounteer drew names for door prizes.
Students mixed and mingled with Western Engineering Alumni at a reception in SEB.