Book explores the research magic of Alan G. Davenport
Western Engineering News | December 7, 2012
By Heather Hughes
No matter what corner of the world you are in, the name Alan G. Davenport has become synonymous with wind engineering. A new book explores how this "Wind Wizard" took to the world stage and shaped the future of civil engineering.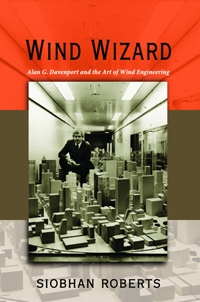 Freelance science journalist Siobhan Roberts knew Davenport by name and reputation before she started digging into his biographical history, having interviewed him for a New York Times article in 2007 on the Insurance Research Lab for Better Homes.
"I heard Alan called the King of Wind by many of his international colleagues, as well the father of modern wind engineering," says Roberts, who penned Wind Wizard: Alan G. Davenport and the Art of Wind Engineering.
Roberts knew that when she met Davenport, "there would be a great story to tell."
Based on a series of interviews, research and visits to the lab, the book describes the man behind research and describes a behind-the-scenes look at select towers and bridges that epitomize his career. It also focuses on his legacy and dedication to prevention of wind-induced structural disasters.
"Alan had always wanted to write 'The Book' – a compilation of all his life's work, theories, projects," says Roberts.
Although he made a good start at chronicling his work, the daily demands of the lab prevented him from completing it.
"Wind Wizard, although not the technical expert account Alan initially intended, was a collective effort to get a book done, and to tell the great story of how modern wind engineering came into being at Western University," notes Roberts.
Davenport joined Western Engineering in the early 1960s, which was a faculty in its infancy. He garnered international attention for the establishment of the Boundary Layer Wind Tunnel Laboratory (BLWTL). Since it opened in 1965, the BLWTL has been used for research and testing some of the most notable structures in the world.
After a long struggle with Parkinson's disease, Davenport died in 2009 at the age of 76.
His work as an engineering consultant on World Trade Center in New York City in the 1960s set the template for future wind engineering. Davenport applied a seemingly simple equation – which he referred to as the "wind loading chain" - to all of his projects: wind load = wind climate + influence of terrain (roughness, topography) + aerodynamic response + mechanical response (stresses, deformations, accelerations) + criteria (strength, deflections, comfort).
"To this day, wind engineering is still done with the same template and many methods of testing owe their origins to him – albeit tweaked here and there by technological and theoretical advances – that have transpired the many labs like Alan's that sprouted up internationally over the last half century," Roberts says.
Under his leadership, the BLWTL has been involved in the wind testing of some of the world's tallest and longest structures, including the World Trade Center in New York City, the Sears Tower (now the Willis Tower) in Chicago, the CN Tower in Toronto, the proposed 3,300-metre span, Messina Straits Crossing, in Italy, Normandy Bridge in France, the Great Belt East (Storebælt) Suspension Bridge in Denmark, and the Tsing Ma Bridge in Hong Kong.
Over the years, the BLWTL has taken "almost an epidemiological approach" to its work, Davenport told Roberts. "You understand diseases through not just one sick patient, but through groups of patients… We've tested 100 very tall buildings, and from that experience we now have a good idea of what the general characteristics are of this group of structures. That is knowledge we could only get at piece by piece."
Davenport viewed this accumulated wisdom as a repository that could be used to serve the public interest, she explains.
The book's title, Wind Wizard, refers to Davenport's "clever and creative" and "wizardly" ways of measuring wind and fortifying structures against its forces.
While his legacy continues to be seen in the work of the BLWTL today, Roberts sees Davenport as "a man who simply loved tackling the problems nature presented."
The book is available for purchase through Princeton University Press, as well as through bookstores and online retailers (including Chapters and Amazon). Read a sample chapter of the book.
Western Engineering is hosting a cocktail reception on Thursday, March 21 at the BLWTL for interested alumni and friends to celebrate the new book, Wind Wizard, and the history of the BLWTL.
Also from this web page:p>
Contact
.: Allison Stevenson
Spencer Engineering Building, Room 2074
T: .519.850.2917
F: 519.661.3808
contactwe@eng.uwo.ca
---