Shuhui Sun awarded 2012 Governor General's Gold Medal
Western Engineering News | June 13, 2012
By Phil Sach
Western Engineering alumnus Shuhui Sun has been honoured with the 2012 Governor General's Gold Medal for graduate study at Western University. These medals recognize students who have completed their graduate studies at the highest level of academic standing.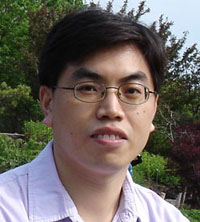 Western's School of Graduate and Postdoctoral Studies presents the award annually to two PhD graduates and one master's graduate.
Sun, who completed his PhD in Mechanical and Materials Engineering in December 2011, came to Western University in 2008 after completing a master's degree at China's University of Science and Technology. Throughout his PhD coursework at Western, Shuhui was praised for his superior performance, which culminated in an outstanding graduating average of 94.5 per cent. In addition, his work was recognized through several competitive awards, including the prestigious doctoral-level NSERC Canada Graduate Scholarship.
"It is truly my great honour to receive this prestigious award," said Sun. "This recognition reinforces my self-confidence and gives me greater resilience in the face of any future challenges to my research. I appreciate the support from my supervisor and from Western Engineering, without which it would have been impossible to achieve what I have so far."
Shuhui's research with Western Engineering's Department of Mechanical and Materials Engineering has produced exemplary results, including two U.S. patents, and has been covered in several high-impact, peer-reviewed industry journals. He is highly regarded as an innovator in his field, pioneering a new approach to the design of electrocatalysts and, most recently, achieving a breakthrough in catalysis for fuel cells.
"Dr. Shuhui is a highly productive researcher who has demonstrated a progressive and creative approach to his work with nanotechnology and clean energy," said Andy Sun, professor and Sun's PhD supervisor. "The Governor General's Gold Medal is only the latest addition to Shuhui's growing collection of academic awards, showcasing the valuable contribution that his research has already made to the field."
Sun is continuing his research as an assistant professor at Institut National de la Recherche Scientifique in Montreal.
Also from this web page:p>
Contact
.: Allison Stevenson
Spencer Engineering Building, Room 2074
T: .519.850.2917
F: 519.661.3808
contactwe@eng.uwo.ca
---