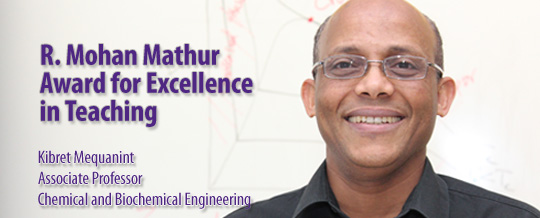 Western Engineering News | April 11, 2012
Watch a video of the award presentation.
Students in Kibret Mequanint's course on Chemical Engineering Thermodynamics should not be surprised if they walk into the classroom and see cartoons projected on the screen at front of the room.
He isn't clowning around; the Chemical and Biochemical Engineering (CBE) associate professor and associate chair (undergraduate) is using a familiar medium to explain a complicated concept – a pedagogical trick he finds very effective in his courses.
"I've always believed an instructor is more than just a pipe information flows through to students," Mequanint said. "I often try to relate with simple, daily life examples that influence them."
Having a high level of enthusiasm is an instructor's best asset, he believes. This philosophy is exemplary of why Mequanint is the 2011 recipient of Western Engineering's R. Mohan Mathur Award for Excellence in Teaching.
"I have to display that level of energy; I tell students I enjoy what I do," he explains, noting this is usually answered with an equal amount of energy from the students.
With many distractions and competing responsibilities, Mequanint asks himself what additional information can he provide students to encourage them to come to class?
"They come because I can relate to them," he says. "I do not take class attendance – they have a reason to come."
Similar is his democratic attitude towards office hours – students vote on the schedule. But even this system allows for exceptions to the rule: "I always make myself available outside the classroom," he said.
"I understand different students need different levels of push," he notes. "Challenge the top students; encourage and inspire the bottom students; and teach the average student. I think there is something for everyone."
His teaching evaluation rating has increased every year and is among the best in Western Engineering, said Ajay Ray, chair of Chemical and Biochemical Engineering, in his nomination letter.
Ray attended a class taught by Mequanint and was impressed by his "active" teaching methods which engaged students with the material.
"Dr. Mequanint is clearly dedicated to the education mission," Ray said. "[He] has displayed impressive scholarship, energy, dedication, and skills in making significant contributions in support of the faculty's mission and to our profession.
"I personally believe that he is a very dedicated and passionate educator capable of training future generations of engineers."
Mequanint played a key role in the development of the Green Process Engineering program at Western Engineering. He has been instrumental in determining new course offerings and in streamlining the CBE undergraduate curriculum.
Since joining Western Engineering he has taught seven different courses, many of which he developed. He is also the chair of CBE's curriculum committee.
Mequanint has worked to develop new initiatives including: a 2+2 Joint Undergraduate Degree Program with Zhejiang University of China; a new 12-month externship program with Fanshawe College on Biotechnology; the preparation of CEAB documents for the accreditation of the Green Processing Engineering program; a 12-month externship program with Lambton College in Alternative Energy Engineering, Chemical Production and Power Engineering, and Instrumentation and Technology program; and a new duel degree five-year program with the Department of Biochemistry.
In the past five years, he has supervised eight undergraduate students (fourth year projects, NSERC undergraduate research students), six master's and six doctoral students, as well as four postdoctoral fellows.
The R. Mohan Mathur Award for Excellence in Teaching is presented annually to an outstanding Western Engineering faculty member to recognize his or her exceptional contributions to University teaching and the promotion of academic excellence amongst our students. Mequanint will be presented with the award at the Annual Faculty and Staff Awards Banquet, to be held Thursday, May 17 at Great Hall, Somerville House. For more information, please contact Sue Chapman.
Also from this web page:p>
Contact
.: Allison Stevenson
Spencer Engineering Building, Room 2074
T: .519.850.2917
F: 519.661.3808
contactwe@eng.uwo.ca
---