Unique skills give Moran edge in oil sands industry
Western Engineering News | September 17, 2012
By Heather Travis
Kevin Moran, BESc'96, has worked in the Canadian oil sands for the past 15 years and is committed to mitigating the environmental impact of one of the world's largest reservoirs of hydrocarbons.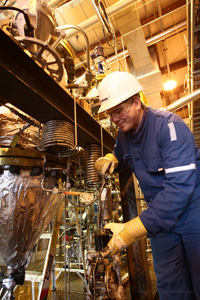 As vice-president, process development with Titanium Corporation, Moran is responsible for the articulation and implementation of a technology development project to recover natural resources (hydrocarbons, heavy minerals and water) from oil sands froth treatment tailings. He is also an adjunct professor in Chemical and Materials Engineering at the University of Alberta.
"During my career, I have gained valuable experience in oil sands operations and field pilot testing, including those concerned with tailings bitumen recovery, as well as innovative froth treatment processes," Moran says.
Originating from Toronto, Moran ventured west to begin graduate studies with the NSERC Chair for Oil Sands Engineering. His research focused on bitumen extraction from oil sands.
Upon completion of his graduate studies, Moran joined the Research and Development team Syncrude Canada Ltd., where he helped develop novel bitumen extraction technologies.
In 2008, he began working for Titanium Corporation to assist with the development of froth treatment tailings remediation technologies.
"This was an exciting opportunity to harness my rather unique skills in engineering research and technology development, with emphasis on oil sands bitumen production," he says.
Moran put his research and development skills to the test, leading a large-scale commercial demonstration of a novel froth treatment technology, which was integrated into Syncrudes' commercial plants. The goal was to reduce the operating and capital expenses, all while providing superior oil recovery.
Titanium recovers the bitumen (a naturally occurring hydrocarbon) and heavy minerals lost in the froth treatment tailings, a result of the processing that occurs before upgrading bitumen to synthetic crude oil. It removes the process solvent, which significantly reduce site-wide volatile organic compounds (VOC) emissions.
"These operations allow for more efficient dewatering of the processed tailings towards compliance with Alberta's Directive 74 mandate that calls for accelerated reclamation efforts," he says.
Moran is credited with executing a successful tailings remediation demonstration pilot that processed about 750 tonnes of tailings – possibly the largest publically-supported pilot of its kind to date.
"The roles that I have held represented exciting opportunities to make a difference to an industry about which I am passionate," he notes. "The work is different from period to period and requires deep technical knowledge to project management skills, as well as application of business sensibilities."
It was Western Engineering's strong tradition in engineering sciences that first attracted Moran to the program. As someone interested in exploring the fundamentals of the different disciplines before picking a stream of focus, Moran filled his toolbox with a diversity of knowledge and skills.
"Western provided me with a strong technical foundation upon which my career has been built," he says. "I felt then, as I do now, that a strong grasp of engineering fundamentals, across all disciplines – but in particular transport phenomena – has allowed for particular process insights to the advantage of targeted technology development in the oil sands industry.
"Further, the emphasis on green engineering in Western's program provided a platform for the emerging environmental perspective that has been important to Titanium's value proposition," he adds.
The same diversity Moran found at Western Engineering was also what attracted him to the oil sands industry. With significant growth expected over the next few decades, Moran is staying at the cutting edge of Canada's energy sector.
"This makes for exciting work that is very diverse, requires deep technical knowledge and strong execution skills, and allows for interactions with a lot of great people who share the same passion and commitment to the industry," he explains. "Further, it is rewarding to support an industry that is important to Canada and its place in the developed world, through the provision of secure commodities that are central to Canada's competitiveness and growth."
Click here for more information on Titanium Corporation.
Also from this web page:p>
Contact
.: Allison Stevenson
Spencer Engineering Building, Room 2074
T: .519.850.2917
F: 519.661.3808
contactwe@eng.uwo.ca
---