Eldyasti recognized for commitment to environmental engineering research
Western Engineering News | April 4, 2012
Working with chemical engineering professors Jesse Zhu and George Nakhla, PhD candidate Ahmed Eldyasti is researching ways to improve biological nutrient removal (BNR) from municipal and industrial wastewater.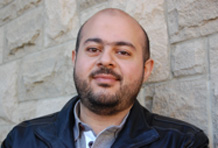 "Over the last two years, I have been examining the feasibility of an integrated circulating fluidized bed bioreactor in biological nutrient removal from municipal and industrial wastewater," explained Eldyasti. " The fluidized bed employs attached microbial films for biodegradation of both organics and nutrients, in both soluble and particulate forms, within a single circulating fluidized bed unit."
Eldyasti's work has resulted in a book chapter, three refereed journals, five refereed conference proceedings, and seven non-refereed conference papers to date. He is also the most recent recipient of the Julie Lassonde Scholarship, awarded to a full-time graduate student who demonstrates making a difference in Ontario, Canada and the world.
"The results of my research will enable us to develop a well-established BNR technology for small and large wastewater treatment plants," said Eldyasti. "Applying this technology to the industrial wastewater management in Canada will significantly help industries address environmental pollution while simultaneously decreasing the technology foot print of such processes."
About the Julie Lassonde Scholarship
Awarded to a full-time graduate student in any program of Engineering based on academic achievement (minimum 78 per cent average), research related to the faculty's strategic research plan and demonstrated financial need. The candidate will be conducting research in one of the following areas: Emerging Green Technologies and Processes, Energy Systems or Infrastructure Renewal. The candidate must demonstrate how their research will benefit Ontario, Canada and the world. A committee in Western Engineering, with at least one representative who is a current member of the School of Graduate and Postdoctoral Studies, will select the recipient.
Also from this web page:p>
Contact
.: Allison Stevenson
Spencer Engineering Building, Room 2074
T: .519.850.2917
F: 519.661.3808
contactwe@eng.uwo.ca
---