James Douglas (J.D.) Hole, BESc'67, to receive 2012 L.S. Lauchland Engineering Alumni Medal
Western Engineering News | September 17, 2012
An active member of the community and a supporter of educational institutions and the arts, James Douglas (J.D.) Hole, BESc ' 67, has been selected the recipient of the 2012 L.S. Lauchland Engineering Alumni Medal from Western Engineering.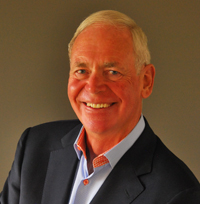 Selected by a volunteer committee of Western Engineering alumni and friends, and in honour of his outstanding contributions to the engineering profession, business leadership and community involvement, Hole will receive the award at the 3rd Annual Western Engineering Leaders' Reception in Toronto on Nov. 7 at the Royal Ontario Museum.
Hole served as past president and CEO of Edmonton-based Lockerbie & Hole, one of Canada's largest construction firms, from 1994-2005. After graduation from Western Engineering, Hole joined Lockerbie & Hole as project manager in 1969. During his tenure he held many positions and led the company into new territories and markets, while playing an integral part in the company's growth and prosperity.
After retiring in 2005, Hole remained chair of the board until 2009 when Lockerbie & Hole was acquired by Aecon. He remains active as a board member with Aecon.
Along with his family, Hole demonstrates an outstanding commitment to the community, including serving as board member and past chair of STARS; a member of the Business Advisory Council of Grant MacEwan College; member of the University of Alberta's Board of Governors; board member and chair of TELUS World of Science – Edmonton and executive board member of the Canadian Industry Program for Energy Conservation, among several other appointments.
The L.S. Lauchland Engineering Alumni Medal was initiated in 1976 to mark the retirement of professor L. Stuart Lauchland, past President of the A.P.E.O. The committee inaugurated a series of medals to be presented annually unless it decides that in a particular year no suitable nominations have been received.
Western Engineering alumni, faculty and staff are invited to submit nominations for this award each year.
Click here for more information and to see a list of past recipients.
Also from this web page:p>
Contact
.: Allison Stevenson
Spencer Engineering Building, Room 2074
T: .519.850.2917
F: 519.661.3808
contactwe@eng.uwo.ca
---