Berruti awarded 2012 Bantrel Award in Design and Industrial Practice
Western Engineering News | June 5, 2012
By Phil Sach
Franco Berruti, Western Engineering of Chemical and Biochemical Engineering professor and director of the Institute of Chemicals and Fuels from Alternative Resources (ICFAR), has been awarded the 2012 Bantrel Award in Design and Industrial Practice.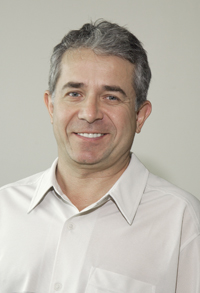 Presented by the Canadian Society for Chemical Engineering, the award recognizes Berruti's long-standing reputation in the field of chemical engineering and his significant contribution to the profession as a whole. He will receive the award at the annual Canadian Chemical Engineering Conference in Vancouver, B.C. this October.
"I am very honoured to be chosen as this year's recipient of the prestigious Bantrel Award," he said. "This is a meaningful recognition of the innovative R&D work that we are conducting at ICFAR in partnership with many industrial organizations."
Berruti has almost 30 years of experience conducting research and mentoring students in the field of chemical engineering and is recognized as a renowned expert in the areas of particle and reactor technologies and gas-solid fluidization. Additionally, he has contributed greatly to the study and advancement of clean technologies, renewable resources and environmental and chemical sustainability.
"Dr. Berruti has been a leader in green technologies for over a decade and his continuing leadership in ICFAR brings important opportunities to Western University to work with industry," said Andrew Hrymak, Western Engineering dean. "The Bantrel Award is a wonderful recognition of these contributions and successes."
Before joining Western Engineering in 2000 as dean, Berruti received his MASc. and PhD from the University of Waterloo and worked at the University of Calgary and the University of Saskatchewan.
Also from this web page:p>
Contact
.: Allison Stevenson
Spencer Engineering Building, Room 2074
T: .519.850.2917
F: 519.661.3808
contactwe@eng.uwo.ca
---