Sidhu appointed Dean, Faculty of Engineering and Applied Science, University of Ontario Institute of Technology (UOIT)
August 25, 2011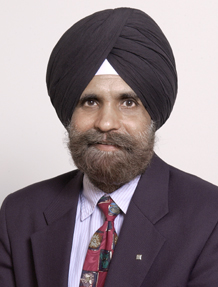 Tarlochan S. Sidhu, chair of the department of Electrical & Computer Engineering at Western has been appointed dean of the Faculty of Engineering and Applied Science at the University of Ontario Institute of Technology (UOIT).

Dr. Sidhu has brought a tremendous amount of knowledge and leadership skills to Western Engineering over the past nine years. He has made significant contributions in teaching, research and service.

"Our faculty, staff and students have benefited greatly from Tarlochan's leadership and his expertise in power systems engineering," says Andrew Hrymak, dean of Western Engineering. "He has made an impact at Western, and around the world."

Dr. Sidhu received a BE (Hons.) degree from Thapar Institute of Engineering and Technology, Patiala, India, in 1979 and MSc and PhD degrees from the University of Saskatchewan, Saskatoon, SK, Canada in 1985 and 1989, respectively.

Prior to joining Western, Dr. Sidhu worked for the Regional Computer Center, Chandigarh, India, Punjab State Electricity Board, India, and Bell-Northern Research Ltd., Ottawa, Canada. From July 1990 to June 2002, he served as professor and subsequently graduate chair with the Department of Electrical Engineering at the University of Saskatchewan.

Currently a professor and department chair of Electrical & Computer Engineering at Western, Dr. Sidhu is also the NSERC/Hydro One Networks Senior Industrial Research Chair in Power Systems Engineering. He has published more than 200 papers in various journals and conferences; some of these papers recognized by major awards.

"Tarlochan is well respected in his field. He is a Fellow of many organizations including the Institution of Engineers (India), Engineering and Technology (U.K.) Engineering Institution of Canada, Canadian Academy of Engineering and the Institute of Electrical and Electronics Engineers," adds Hrymak. "He regularly contributes to the engineering community as a whole through activities with IEEE and UNENE. His colleagues in Western Engineering, and across campus, will miss him and we all wish him well on his new appointment."
Also from this web page:
Contact
.: Allison Stevenson
Spencer Engineering Building, Room 2074
T: .519.850.2917
F: 519.661.3808
contactwe@eng.uwo.ca
---