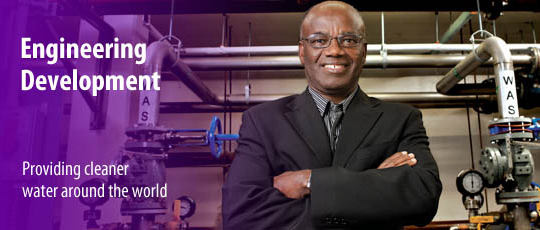 By Douglas Keddy | Research Western Newsletter
For Ernest Yanful, the field of engineering is more than just a profession – it is an opportunity to foster economic, environmental and human resource development that creates positive change around the world.

By helping understand interactions between soil, rock, water and pollutants in the ground, the civil & environmental engineering professor's research has played a significant role in soil and water cover designs that prevent and control acid drainage in waste rock and tailings from the mining and milling of metal and uranium ores.

"I am also interested in designing waste containment systems, and in research that provides safe drinking water by removing chemicals, pharmaceuticals and endocrine receptors that have entered watercourses," Yanful says.

While his work provides significant benefits in Canada – notably where efforts are being made to minimize the environmental effects of mining and other industrial activities – it is also critical in the developing world, where clean and safe water is often limited. With extensive funding from the Natural Sciences and Engineering Research Council, and collaborations with industries and institutions across the globe, Yanful's multi-disciplinary research also places significant emphasis on training.

He leads several capacity-building initiatives in Ghana, Kenya, Sri Lanka and India that advance research and train future engineers to address critical issues related to waste management, water and sanitation, biodiesel production and the design of small, mobile drinking water systems for remote communities. Yanful advises students aspiring to pursue international work to understand the 'real world' is different from school.

"I think students are very passionate about making a difference," he says. "They're willing to go out of their comfort zones and go overseas, but there are so many things you have to take into account, like how to work with people and how to work within different cultures."

For several years, Yanful has collaborated with partners in Ghana to conduct comprehensive research about source-separation, recycling, composting and the development of waste management programs. More recently, he has extended his work to other regions, including training workshops in waste management, water and sanitation and renewable energy in Kenya.

In the process, he has been training future engineers who can translate the knowledge they gain into action for the betterment of their country. As with any good partnership, Yanful stresses that the learning is a two-way street.

"You provide expertise in a particular area through teaching, training, workshops and the exchange of ideas," he says. "In the process, you learn from the students and trainees – and they learn from you."

Last year, Yanful's efforts in Ghana led him to partner with the Kwame Nkrumah University of Science and Technology and the nation's largest waste management company to establish a new long-distance learning program. Between September and April, Ghanaian students access online courses through video conferencing, and are taught short modules by Western professors who travel to the West African country during the summer.

"People can be in Ghana and take a sufficient number of courses to earn a Master's degree," says Yanful, who is also a Research Director at Western's Geotechnical Research Centre. Through his passion for teaching and innovative research that reduces the global human environmental footprint, Yanful is firmly leaving his own mark on the world.
Also from this web page:
Contact
.: Allison Stevenson
Spencer Engineering Building, Room 2074
T: .519.850.2917
F: 519.661.3808
contactwe@eng.uwo.ca
---