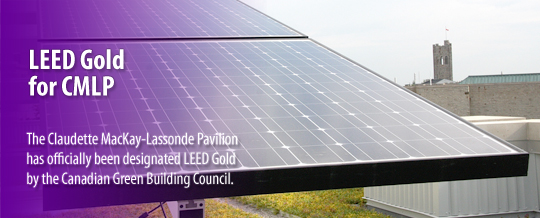 The Claudette MacKay-Lassonde Pavilion in the Faculty of Engineering at The University of Western Ontario has officially been designated LEED (Leadership in Energy & Environmental Design) Gold by the Canadian Green Building Council.

The 45,000 square-foot, $20-million facility, known as the "Green Building" features advanced environmentally sustainable construction technologies and methodologies. The structure houses research geared towards green technologies, processes and materials. It is the second building in London, Ontario to achieve LEED Gold status, the first being the Sisters of St. Joseph's new residence.

"Sustainability has become a top priority for Western in terms of construction," says Gitta Kulczycki, the University's Vice-President (Resources & Operations). "We have made a commitment to achieve LEED Silver or better on all new construction and major renovation projects."

Unique areas of the building include a green roof covered with flats of drought-resistant sedum, a hardy garden plant. The soil and plants insulate the building for sound, along with increasing the heating and cooling efficiency. A wind turbine and solar panels are also located on the roof to help generate electricity.

Other green features of the building include: a cistern and greywater system, geothermal heating/cooling, designated spots for carpoolers, use of local and recycled materials, and roughly 40 per cent energy efficiency over similar standard constructions.

"The Claudette MacKay-Lassonde Pavilion provides our faculty members and graduate students an opportunity to conduct environmentally sustainable engineering research and educational initiatives in a state-of-the-art facility," says Andrew Hrymak, Dean, Western Engineering. "The pavilion is enabling and expanding our established and emerging researchers to become internationally recognized for their research in the field of green technologies and products for a sustainable future."

The Claudette MacKay-Lassonde Pavilion is named through support from the Lassonde Family. In 2007, the Lassonde Family Foundation donated $5 million towards the construction of the building. Other support has come from the Canada Foundation for Innovation and the Ontario Research Fund; the T.R. Meighen Family Foundation, Michael and Kelly Meighen; the University; and from various other private sector and alumni contributions.

To learn more about the Claudette MacKay-Lassonde Pavilion please visit www.eng.uwo.ca/cmlp

About Claudette MacKay-Lassonde:
The Claudette MacKay-Lassonde Pavilion is named for the late mother of Western Engineering alumnus Christian Lassonde (BSc '97, BESc' 98). Among her many accomplishments, Claudette MacKay-Lassonde became the first female president of the Association of Professional Engineers Ontario in 1986. From 1987 to 1988, she was a member of the National Advisory Board on Science and Technology. Active in promoting engineering as an attractive career for women, she organized the first Canadian Convention of Women Engineers, founded the organization Women in Science and Engineering, and was instrumental in setting up the Canadian Engineering Memorial Foundation. She advocated for professionalism and humanism in Engineering throughout her career and was recognized with seven honorary Doctorates of Engineering.
Also from this web page:
Contact
.: Allison Stevenson
Spencer Engineering Building, Room 2074
T: .519.850.2917
F: 519.661.3808
contactwe@eng.uwo.ca
---