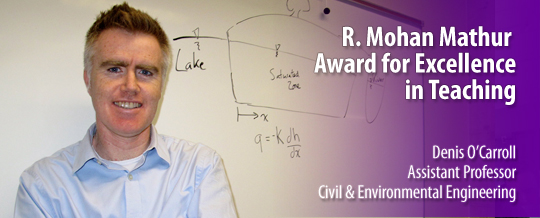 Western Engineering News | April 12, 2011
Denis O'Carroll, Assistant Professor in the Department of Civil & Environmental Engineering, has a passion for teaching and providing the best student experience. He is purple and proud teaching at The University of Western Ontario, but he often sees green when teaching and conducting research initiatives.

Since joining the Department of Civil & Environmental Engineering in 2006, O'Carroll has developed four new courses. These courses have strengthened the environmental engineering program both at the undergraduate and graduate levels. One of the courses was also introduced for the International Development option and has a strong focus on developing underserviced communities, both in Canada and abroad, a new emphasis for the Department and Faculty. As a part of this course, he developed a strong hands-on laboratory component and has introduced new equipment and testing methodologies.

O'Carroll also coordinated groups of multi-disciplinary fourth-year students who proposed designs for the Claudette MacKay-Lassonde Pavilion, the first 'green building' on Western's campus. In conjunction with Physical Plant, architects, and engineers, O'Carroll worked to develop the new building as a 'living laboratory,' incorporating many of the students' designs into the new building. O'Carroll was also instrumental in bringing together many faculty members to explore and utilize the building as a teaching tool. His initiatives with the CMLP earned him the 2009 Western Green Award.

During the past 5 years, O'Carroll has supervised/co-supervised 13 undergraduate (fourth year projects, NSERC undergraduate research students), 14 Master's, and 3 doctoral students, as well as 7 postdoctoral fellows. In addition, he has examined 28 graduate student theses and dissertations since 2006. Many of the undergraduate students he has supervised since joining the Department have stayed to complete a Master's and PhD.

"Denis' success working with the students is a testament to the overall positive experience they have had working with him," says Western Engineering Dean Andrew Hrymak. "His on-going commitment to incorporating sustainability in environmental engineering, his innovative teaching methods and the advancement of the undergraduate and graduate curriculum at Western Engineering makes him a very deserving recipient of the R. Mohan Mathur Award for Excellence in Teaching."

The R. Mohan Mathur Award for Excellence in Teaching is presented annually to an outstanding Western Engineering faculty member to recognize his or her exceptional contributions to University teaching and the promotion of academic excellence amongst our students. O'Carroll will be presented with the award at the Annual Faculty & Staff Awards Banquet, to be held Tuesday, May 24, 2011 at Great Hall, Somerville House. For more information, please contact Sue Chapman.
Also from this web page:
Contact
.: Allison Stevenson
Spencer Engineering Building, Room 2074
T: .519.850.2917
F: 519.661.3808
contactwe@eng.uwo.ca
---