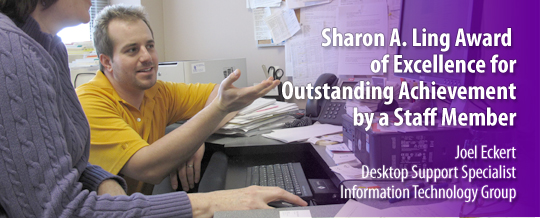 Western Engineering News | April 12, 2011
The University of Western Ontario prides itself on offering the best student experience. Joel Eckert, Desktop Support Specialist in Western' Engineering's Information Technology Group, makes it his mandate to offer the best computer support service to the entire Western Engineering community.

"Joel provides ongoing IT support for Western Engineering graduate and undergraduate students, staff and faculty," explains Western Engineering Dean Andrew Hrymak. "He listens respectfully to problems and needs, researches, presents and discusses alternatives, provides recommendations and delivers patient instruction for ease of use of technology. He is committed to making technology work for the user."

One staff member wrote: "Joel has on many instances gone above and beyond what might reasonably be expected of a person in his position. For Joel, no question is irrelevant, no concern trivial. He never minimizes issues. He solves minor problems....with a smile, graciously and politely..... Joel always takes the time to educate his clients.....he listens attentively to issues and needs, researches solutions and responds with advice."

Others commented on Joel's ongoing assistance to users and how it was demonstrated through the success of the email migration project. One faculty member wrote: "The email migration was a daunting task.....everything went smoothly [because of Joel]. I believe he put a lot of effort and planning so that no major disruption took place [for users] during migration. The way he handled this huge task, with elegance, makes him a well-deserved recipient of [this award]."

Students also commented on Joel's supportive and helpful nature. One student wrote: "I have been to Joel's office for a number of different reasons ranging from system troubleshooting, software incompatibilities, even [for] my personal laptop issues. He addressed all the problems with equal dedication...Joel... understands the student's problems and needs during their course of study and has sometimes gone out of the way to help me and others as well...with a positive attitude towards his work and a respect for others."

The Sharon A. Ling Award of Excellence for Outstanding Achievement by a Staff Member is presented annually to a Western Engineering employee to recognize his or her exceptional long-term contributions in support of the academic, research, innovation, public service or administrative missions of The Faculty of Engineering. The award was renamed in 2007 to honour and recognize Sharon Ling, a long-time staff member in the Department of Electrical & Computer Engineering. Sharon was a staff member who passionately dedicated her time and energy for the betterment of the Faculty. Eckert will be presented with the award at the Annual Faculty & Staff Awards Banquet, to be held Tuesday, May 24, 2011 at Great Hall, Somerville House. For more information, please contact Sue Chapman.
Also from this web page:
Contact
.: Allison Stevenson
Spencer Engineering Building, Room 2074
T: .519.850.2917
F: 519.661.3808
contactwe@eng.uwo.ca
---