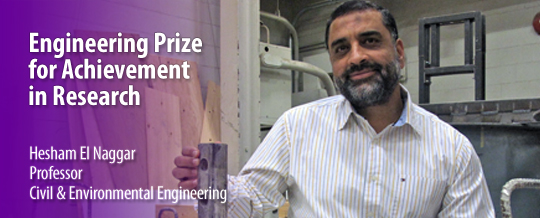 Western Engineering News | April 12, 2011
Hesham El Naggar, Associate Dean, Research and Graduate (on administrative leave until June 30, 2011) and Professor in the Department of Civil & Environmental Engineering, is setting the foundation for Western Engineering research – literally.

A well-known and respected researcher, whose contributions in pile foundations, seismic analysis and earthquake engineering, El Naggar has made a significant impact both nationally and internationally with his research. He developed innovative foundation solutions and design procedures (e.g. STATNAMIC test, toe driving device, cast-in-place tapered piles) and he was the main developer of the software DYNA5, which is used around the world today.

El Naggar's status as a prominent foundation engineer was recognized nationally and internationally when he was awarded the G.G. Meyerhof Award which honours individuals for outstanding and significant contribution to the art and science of foundation engineering and the A.G. Stermac Award from the Canadian Geotechnical Society. His peers have also recognized him by appointing him an Associate Editor of the Canadian Geotechnical Journal, one of the leading international journals in the area of geotechnical engineering.

El Naggar publishes frequently in high-quality research journals. He has published over 250 technical articles, including more than 110 papers in refereed journals, 10 chapters in books, 70 papers in refereed conference proceedings and a large number of other conference papers, and research and professional reports. He presented more than 70 papers in national and international conferences and workshops including 12 invited/keynote lectures. In addition, El Naggar has graduated over 35 PhD and Master's students and is currently supervising 15 graduate students.

"Hesham is a renowned scholar and world leader in the field of foundation dynamic and geotechnical earthquake engineering, " says Western Engineering Dean Andrew Hrymak. "He is a well-known expert and deserving recipient of the Engineering Prize for Achievement in Research."

The Engineering Prize for Achievement in Research is presented annually to recognize the outstanding research contributions of a faculty member in Western Engineering. El Naggar will be presented with the award at the Annual Faculty & Staff Awards Banquet, to be held Tuesday, May 24, 2011 at Great Hall, Somerville House. For more information, please contact Sue Chapman.
Also from this web page:
Contact
.: Allison Stevenson
Spencer Engineering Building, Room 2074
T: .519.850.2917
F: 519.661.3808
contactwe@eng.uwo.ca
---