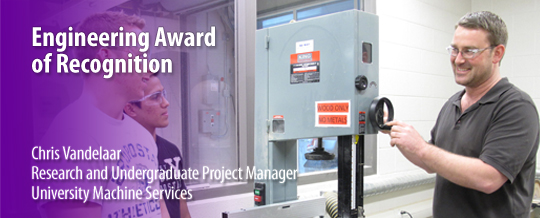 Western Engineering News | April 12, 2011
Chris Vandelaar, Research and Undergraduate Project Manager in University Machine Services (UMS), was nominated for the Engineering Award of Recognition for the work he has done in setting up the student shop space in the Claudette MacKay-Lassonde Pavilion (CMLP) and for the work he has done in setting up and implementing the student shop safety training.

"Because of the work Chris has done, the students are receiving training that not only gives them the safety aspects of working in a shop, but also gives them a basic understanding of machining and manufacturing techniques," says Western Engineering Dean Andrew Hrymak. "In fact, Western's Health and Safety team wants to use the training program that Chris has developed as a model for other student shops on campus."

The training Vandelaar developed is now going well beyond health and safety and is currently being reviewed so that it might become a certificate course that interested students can enroll in to receive useful, practical hands on manufacturing experience that will be desirable to some employers.

One staff member wrote: "I believe that the work Chris has done will not only make for a better run and safer student shop, it is also going to produce better engineers and give our students an edge in the job market. All of the work Chris has done has been while still balancing his responsibilities at UMS. Also, in order to accommodate the needs of students, Chris has run many of the training sessions during evening hours."

Faculty members wrote of Chris's dedication to this project, which has gone above and beyond his normal everyday duties: "Chris brought with him a wealth of knowledge of manufacturing, engineering documentation and prototyping. Chris has implemented this knowledge very effectively to support students' design projects...Chris's involvement has been essential in successful course delivery and his expertise combined with personal dedication to teaching has significantly improved design skills of [students]."

Each year the Faculty presents Engineering Award(s) of Recognition to individuals (or teams) who have made an exceptional contribution in the past year to help further the academic, research and innovation, public service and/or administrative missions of the Faculty. These awards can be given to a faculty or staff member or an individual who is not an employee of Western Engineering. Vandelaar will be presented with the award at the Annual Faculty & Staff Awards Banquet, to be held Tuesday, May 24, 2011 at Great Hall, Somerville House. For more information, please contact Sue Chapman.
Also from this web page:
Contact
.: Allison Stevenson
Spencer Engineering Building, Room 2074
T: .519.850.2917
F: 519.661.3808
contactwe@eng.uwo.ca
---