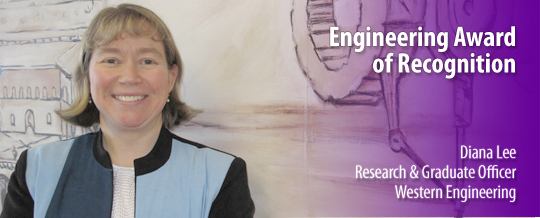 Western Engineering News | April 12, 2011
Diana Lee, Research & Graduate Officer in Western Engineering's Research & Graduate Office, was nominated for the Engineering Award of Recognition for the work she has done setting up a system for tracking and enforcing Health and Safety Training for graduate students in the Faculty of Engineering.

"It was identified that many of our graduate students in Western Engineering required Health and Safety training beyond WHMIS," explains Western Engineering Dean Andrew Hrymak. "Diana found a creative solution to this problem by making the Health and Safety training courses required milestones for progression as students would have to complete their training in order to continue with their studies."

One staff member wrote: "Diana organized orientation sessions for the grad students at the beginning of each term where they are given...requirements for Health and Safety training. She put a system in place where the grad students are [informed of] which health and safety courses are required [and developed a tracking system for this process]. Diana has worked very hard...answering many questions and setting up in-house safety training sessions for our graduate students. Because of Diana's efforts, nearly all of our graduate students have now completed all of their required safety training. This will enhance safety in all of our research laboratories and will help to promote a safety culture in the Faculty of Engineering."

Diana's level of commitment and dedication to this initiative was described by another staff member as follows: "Diana has dramatically improved the health and safety conditions of the Faculty of Engineering, reducing the risk of injury to graduate students or damage to property or facilities. Diana's professionalism and enthusiasm towards this initiative has been outstanding. She continues to provide unique ideas and solutions to improve the overall student experience."

A member of the Occupational Health and Safety team at Western commented: "The work Diana has done in developing these stringent requirements for grad student work has without a doubt increased awareness of health and safety in Engineering. The first thing checked during an accident/incident investigation is training records and Diana's effort in this initiative is a great step forward in Engineering showing due diligence."

Each year the Faculty presents Engineering Award(s) of Recognition to individuals (or teams) who have made an exceptional contribution in the past year to help further the academic, research and innovation, public service and/or administrative missions of the Faculty. These awards can be given to a faculty or staff member or an individual who is not an employee of Western Engineering. Lee will be presented with the award at the Annual Faculty & Staff Awards Banquet, to be held Tuesday, May 24, 2011 at Great Hall, Somerville House. For more information, please contact Sue Chapman.
Also from this web page:
Contact
.: Allison Stevenson
Spencer Engineering Building, Room 2074
T: .519.850.2917
F: 519.661.3808
contactwe@eng.uwo.ca
---