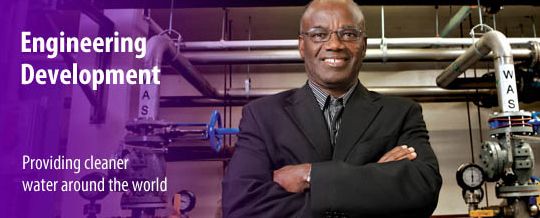 Yanful recognized for paper on advanced oxidation treatment of drinking water
By Agnes Chick | May 30, 2011

Ernest Yanful, Western's department chair for Civil & Environmental Engineering, received the Harvey Rosen Award for his paper, "Advanced Oxidation Treatment of Drinking Water: Part 1. Occurrence and Removal of Pharmaceuticals and Endocrine-Disrupting Compound from Lake Huron Water".

The award was presented by the International Ozone Association (IOA) in honour of Yanful's environmental efforts, along with his fellow colleagues including Mohammad Feisal Rahman, Saad Jasim, Leslie Bragg, Mark Servos, Souleymane Ndiongue and Devendra Borikar.

Yanful's study suggests the occurrence of selected endocrine disrupting compounds, pharmaceuticals and personal care products in Lake Huron Water can be removed using ozone/hydrogen peroxide based pre-coagulation, advanced oxidation process (AOP). This has been a significant contribution to understanding the need for health protection as Lake Huron is a source of drinking water for London and a number of municipalities in the area.

"We showed in our paper that ozone advanced oxidation processes can remove many emerging contaminants from water and wastewater," says Yanful. "I am humbled to learn our work is being recognized for addressing an issue of major concern regarding our water supplies."

Not only does Yanful's work benefit ozone-based advanced oxidation processes to upgrade or retrofit existing drinking water treatment systems in Lake Huron, ozone can also remove pathogens from drinking water sources, a major issue in a number of developing countries.

Founded in 1973, the IOA serves as the central, worldwide gathering and distributing point on ozone information, bringing together scientists, engineers, systems designers, technologists, equipment manufacturers, and end users to share their experiences and research data on ozone and other related oxygen compounds. The World Congress is an opportunity for experts from all over to the world to present and discuss ways to benefit human health protection, industrial manufacture and conditioning, and medical therapy.

The Harvey Rosen Award recognizes the best paper published in "Ozone: Science & Engineering" for the two-year preceding the award. It was presented at the IOA World Congress in Paris, France on May 25, 2011, at the closing awards ceremony.
Also from this web page:
Contact
.: Allison Stevenson
Spencer Engineering Building, Room 2074
T: .519.850.2917
F: 519.661.3808
contactwe@eng.uwo.ca
---