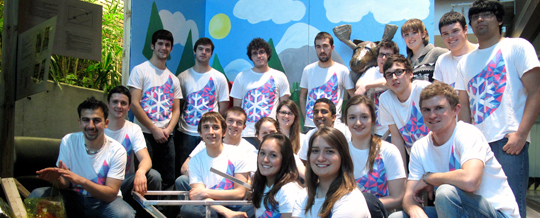 Western Engineering Concrete Toboggan Team slides into 10th place at the GNCTR
By Hendrik Westerink | February 14, 2011
After over half a year of preparation and hard work, the Western Engineering Toboggan Team recently took their 2011 toboggan to the 37th Annual Great Northern Concrete Toboggan Race (GNCTR), at the University of Alberta. The competition took place January 26 to 30, 2011, and included over 20 teams from engineering schools from across Canada. Each team designed and built a toboggan with all running surfaces made entirely of concrete. Other design criteria included a 300 lb. weight limit, a safe roll bar, and a five-rider capacity.

The competition was packed full of events that kept the team busy for the entire weekend. Following the travel day on Wednesday, the team toured the University of Alberta and completed various activities with competitors from other schools. On Friday, the teams set up their technical exhibitions to showcase their toboggan design and construction work to judges, event sponsors, and the public. Saturday was Race Day, which took place at the Edmonton Ski Club. Each team was given two runs to achieve results for top speed and best braking distance. This was followed by a head-to-head bracket style tournament to determine the winner of the "King of the Hill" award.

The Western Engineering Toboggan Team finished in to 10th place, out of 19 competing teams, which is similar to the team's standings last year. Some highlights of this year's results include 2nd place in technical report and a top 5 finish in technical presentation. The team learned many new ideas about different designs and construction processes at the competition, and is looking forward to employing the new ideas in the future. In addition, the team brought a young team to the competition (mostly second-year students), so there is plenty of optimism for next year's team.

Watch the Rick Mercer, from the Rick Mercer Report, race down the hill with the University of Alberta team.
Also from this web page:
Contact
.: Allison Stevenson
Spencer Engineering Building, Room 2074
T: .519.850.2917
F: 519.661.3808
contactwe@eng.uwo.ca
---