Siddiqui elected a Fellow of the CSME
By Agnes Chick | May 26, 2011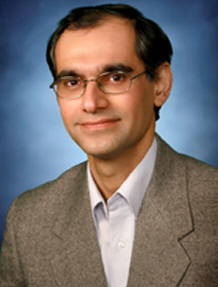 The Canadian Society of Mechanical Engineering (CSME) will be awarding personnel in the mechanical engineering field for their exceptional expertise in the industry. Among those being recognized is Western's Mechanical & Materials Engineering professor Kamran Siddiqui, who has been elected to Fellow of CSME for his excellence in mechanical engineering and contributions to the profession.

Siddiqui will accept this award at the CSME award ceremony, at the University of British Columbia, Vancouver on June 6, 2011. The event will take place at the Canadian Congress of Applied Mathematics (CANCAM) reception.

"The CSME Fellowship is awarded to the member who has attained excellence in mechanical engineering and who has contributed actively to the progress of mechanical engineering profession and of society," says Siddiqui, who is a member and Technical Editor of the CSME Bulletin. "To me, this award is an encouragement to continue and further excel in the field of mechanical engineering and serve for the betterment of society."

Siddiqui has also been granted the Petro-Canada Young Innovators Award and Canada Foundation for Innovation (CFI) Leaders Opportunity Fund Award for his research excellence. He was also a Natural Sciences and Engineering Research Council (NSERC) Post-Doctoral Fellow, and held major scholarships including NSERC postgraduate scholarship and Ontario graduate scholarship.

Founded in 1970, CSME is the first constituent society of the Engineering Institute of Canada (EIC). The society aims to connect members with interest in mechanical engineers at the local and regional levels by providing a whole range of social and technical activities, including meetings, lectures, seminars, plant tours, etc. A common platform is formed for these members to meet and discuss issues and concerns regarding mechanical engineering.
Also from this web page:
Contact
.: Allison Stevenson
Spencer Engineering Building, Room 2074
T: .519.850.2917
F: 519.661.3808
contactwe@eng.uwo.ca
---