Master of Engineering
What is a Master of Engineering Degree?
A Master of Engineering (MEng) degree is a professional course work based degree offered at Western University and is offered to students who have a bachelor's engineering degree or an equivalent degree from an accredited university.The MEng program offers a course-based degree that may be a combination of course work and a project, or complete course work.  Students in the MEng Program do not require a supervisor; the Associate Chair of Graduate Professional Programs is assigned to oversee the MEng Program and assist MEng students throughout their course of study.
Times to Completion
3 Terms (1 year; full-time)
Why Pursue a Master of Engineering Degree?
• Complete a post-graduate degree in one year on full-time basis, or on a part-time basis in two years. Students who request part-time status must meet the criteria set forth by the School of Graduate & Postdoctoral Studies
• Learn practical engineering skills
• Stand out from other engineering graduates
• Advance your career
• Obtain Canadian credentials - a crucial entry-point for international students and newcomers to Canada seeking employment opportunities in engineering
Why Pursue a Master of Engineering Degree at Western?
• Western University's Civil & Environmental Engineering program, ranked #1 in Canada and #14 worldwide, by the Academic Ranking of World Universities (www.shanghairanking.com), is renowned for its excellence, nationally and internationally, due to its outstanding academic curricula, award-winning professors and state-of-the-art facilities. 
Admission Requirements
• Minimum 70 per cent average in a four-year honours degree or equivalent from an accredited university
(average based on last two years of the degree), as determined by the Department
• Work experience is not mandatory, but considered an asset
• Two letters of reference (preferably academic)
• English language proficiency for international students
Fees
Canadian citizens/permanent residents: ~ $14,833/year full-time
International students: ~ $33,538/year full-time

* Fees are subject to change, please see the posted Fee Schedule for up-to-date fees


Course Information
• Students can select ten courses, or eight courses plus a project
• Projects can be completed in one or two terms
• Projects are equivalent to two courses
Areas of Specialization
We offer a variety of areas of specialization which will allow you to customize your MEng program of study:
First Term of Registration
During first term of registration and after consultation with the Associate Chair of Graduate Professional Programs, the student must submit a Proposed Program of Study Form to the CEE Graduate Office for review and approval by the CEE Graduate Committee. The Proposed Program of Study must indicate the proposed course selection and, if applicable, an engineering project topic. 
Course Enrollment
Enrollment in all Civil and Environmental courses is completed via the Student Centre. For more information about enrolling in courses, please visit the CEE Courses page.  

Below is a diagram explaining the difference between course based and a research project as well as what kind of courses you can take.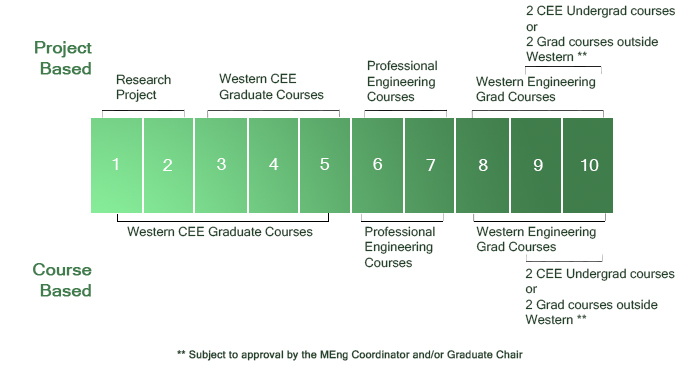 Course-Based
10 Courses

Attend 50% of the Civil Seminar Series (average calculated per term)
Minimum residency: 3 academic terms (1 year)
Students can start in September, January or May
Courses in Civil and Environmental Engineering
Courses in Civil and Environmnetal Enginering are grouped by research area. Pleaes select the area you are interested in to view courses offered for the next two years in that specific area:
Continuous Registration
Students enrolled in the MEng program MUST register in every term from initial registration until all degree requirements are complete.  If unable to register, the student may apply for a Leave of Absence.  
Please note: Approval of a Leave of Absence request is not guaranteed and is subject to the approval of the CEE Graduate Chair and the School of Graduate and Postdoctoral Studies.  Documentation supporting the request is required and must be submitted to the CEE Graduate Office. Please allow 4-6 weeks for your request to be processed.  
All graduate students in CEE must maintain a cumulative average of at least 70% calculated each term over all courses taken for credit, with no grade less than 60%. In the case of failing grades given for Scholastic Offences, only the Vice-Provost (Graduate and Postdoctoral Studies) can withdraw a student; see Section 10.
Health and Safety 
All MEng students must complete the required health & safety training, as determined by the Research & Graduate Office in the Faculty of Engineering.  Please visit https://www.eng.uwo.ca/graduate/current-students/health-safety.html to view all required training for your graduate program. All health & safety training must be completed by the end of your first month in the program.