Graduate Student Recognition
Graduate Student Recognition
PhD Candidate, Sadaf Mehrabi receives a 2020 CWRA Scholarship
Sadaf Mehrabi was awarded the Ken Thompson Scholarship through the Canadian Water Resources Association (CWRA).  Sadaf's field of study is establishing mainstream shortcut nitrogen removal processes using membrane aerated biofilm reactors. 
The Canadian Water Resources Association annually offers five scholarships awarded to graduate students whose programs of study focus on applied, natural, or social science aspects of water resources. The scholarship recipients also receive a one-year membership for the Canadian Water Resources Association. 
Congratulations Sadaf!
More information please visit the CWRA
PhD Candidate, Ali Fallah Yeznabad receives the 2020 Canadian Dam Association (CDA) Graduate Student Award of Merit
The Canadian Dam Association offers annually scholarships to graduate students attending a Canadian university or college whose program of study focuses on dam safety and/or the management of dams. The CDA Selection Committee was impressed by Ali's high quality submission and hard work.
Ali is the first student from Western University to get recognized by the CDA.  He would like to share his success with his supervisor, Dr. Hesham El Naggar and co-supervisor Dr. Sheri Molnar, Earth Science. 
Ali and his research group are working on the "Metro Vancouver Microzonarion" (funded by EMBC and ICLR), which evaluate different hazards associated with ground shakings in Greater Vancouver, BC.  Ali's research looks at seismic hazard for slopes and earth-fill dams and whether the sloping grounds and dams will be safe during earthquakes.  More information on Ali's research visit https://metrovanmicromap.ca/
Congratulations Ali!
PhD Candidate, Taryn Fournie, wins first-place at Western's 3MT Final
Civil and Environmental Engineering PhD candidate Taryn Fournie is researching the ability to extract metals and nutrients from sewage sludge, which can then be repurposed for agriculture or new products. [See More]
Civil & Environmental Internal Award Winners
The Graduate Committee in the Department of Civil & Environmental Engineering is pleased to announce the 2019-2020 winners for the following awards:
Alan G. Davenport Memorial Scholarship
Awarded to a full-time graduate student conducting research in the Civil and Environmental Engineering Alan G. Davenport Wind Tunnel Program, based on academic achievement. Preference will be given to an international student, particularly if s/he is from a developing country. This award was established by family and friends of Dr. Alan Garnet Davenport.
Congratulations to this year's winners: Eric Lalonde and Cody Van Der Kooi!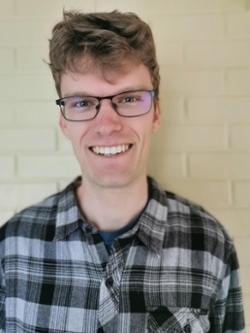 Dr. Robert Addie Scholarship in Wind Engineering
Awarded annually to a full-time graduate student pursing a Master's or Doctoral degree in Engineering, based on the academic achievement and research merit. Preference will be given to a student specializing in wind engineering and specifically research involving WindEEE. The award was established with a generous gift from Mrs. Margo Addie, in memory of her late husband Dr. Robert Addie (PhD '78, Engineering).

Congratulations to this year's winner: Nima Ezami!


Graduate Scholarship in Structural Engineering
Awarded to a full-time graduate student in Engineering who is specializing in Structural Engineering based on academic achievement (minimum 80% average).
Congratulations to this year's winner: Xizhong Cui!