Research
Research Interests
Dr. El Damatty research interests lie in the general area of structural engineering with emphasis on wind-related structural problems, effects of tornadoes and downbursts on transmission line structures, analysis and design of shell type structures, seismic analysis of liquid-filled containers, structural control, structural optimization, and fluid-structure interaction problems.
Currently supervising the research of 8 PhD. Students, and 1 M.Sc. Student.


Since the beginning of academic career in 1996, 16 PhD. and 16 M.Sc. graduated.


Research studies are conducted using computer codes developed in-house.


The numerical studies are often complimented and validated using static tests conducted at the structure laboratories, shake table dynamic tests, wind tunnel tests, field measurements, and testing at the unique WindEEE dome facilty.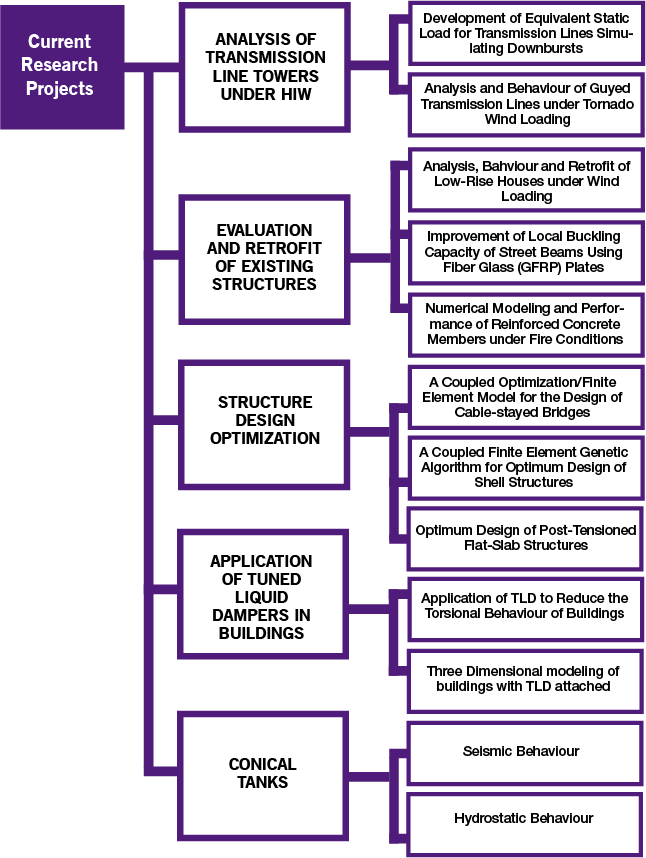 Research Group
RESEARCH COLLABORATORS
A. Nassef
American University in Cairo
Department of Mechanical Engineering
Adjunct Professor at the University of Western Ontario


POSTDOCTORAL FELLOWS
Dr. Ayman El Ansary
Title of Research Project: Development of Computer Tool for Analysis of Transmission Lines Under High-Intensity Wind Loading


CURRENT Ph.D. STUDENTS
A. El Najar
Title of Research Project: Effect of Topography on Tornado Response of Transmission Line


M. Hamada
Title of Research Project: Testing and Behaviour of Transmission Lines Under High-Intensity Winds


A. Elshaer
- co-supervised with Dr. Bitsuamlak
Title of Research Project: Resilience and Sustainablity of High Rise Buildings


A. Ibrahim
Title of Research Project: Behaviour of Reinforced Concrete Transmission Towers Under High Intensity Winds


A. A. El Ansary
Title of Research Project: Seismic Design Procedures of Reinforced Concrete Conical Tanks


A. Musa
Title of Research Project: Seismic Design Procedures of Steel Conical Tanks


F. El Subaei
Title of Research Project: Protection of Buildings Against Blast Loading


A. Elawady
Title of Research Project: Developments of Design Procedures for Transmission Lines to Resist Downbursts


CURRENT M.Sc. STUDENTS
J. Rosenkrantz
Title of Research Project: Floor Vibration Studies


SUPERVISED Ph.D. STUDENTS
A. Hamada
Title of Research Project: Numerical and Experimental Studies of Transmission Lines Subjected to Tornadoes (NSERC Vanier- Receiver of the 2013 CEE Structual Award)


H. Aboshosha
- co-supervised with with Dr. Bitsuamlak
Title of Research Project: Response of Transmission Lines Conductors Under Downburst Wind (NSERC IPS - Receiver of the Allan Davenport 2013 Award)


I. Soliman
Title of Research Project: Three-dimensional Analysis of Buildings with Tunnel Liquid Dampers


M. Siddique
Title of Research Project: Enhancement of Local Buckling Behaviour of Steel Structures Retrofitted Through Bonding GFRP Plates


A. M. El Ansary
Title of Research Project: Optimum Design of Shell Structures


M. Hassan
Title of Research Project: Optimum Design of Cable Stayed Bridges


M. Semelawy
Title of Research Project: Experimental and Numerical Development of Anchor-Jointed Precast Structural Wall System


M. Darwish
Title of Research Project: Characteristics and Design of Downburst Loaded Transmission Lines


M. Maleki
- co-supervised with with B. Drysdale
Title of Research: Analysis and Testing of Partially Reinforced Masonry Walls


M. Moftah
- co-supervised with with M. Youssef
Title of Research: Numerical Modeling and Performance of Reinforced Concrete Members under Fire Condition


M. Rahman
- co-supervised with with M. Youssef
Title of Research:The use of Tuned Liquid Dampers to Enhance the Seismic Performance of Concrete Rigid Frame Buildings


A. Shehata
Title of Research Project: Behaviour of Guyed Transmission Towers Under Downburst


M. Saafan
Title of Research Project: Dynamic and Buckling Behaviour of Combined Conical Tanks


M. Tait
- co-supervised with N. Isyumov
Title of Research Project: The performance of 1-D and 2-D Tuned Liquid Dampers


M. Abushaggur
Title of Research Project: Enhancement of Flexural Capacity of Steel Beams Using GFRP Sheets


A. Sweeden
Title of Research: Seismic Design and Behaviour of Elevated Conical Tanks


SUPERVISED MSc. STUDENTS
O. Zadeh
Title of Research Project: Optimum Design of Cable-Stayed Bridges


R. Jacklin
Title of Research Project: Experimental Assessment for a Retrofitting Technique for Wood Houses


T. Azabi
Title of Research Project: Behaviour of Reinforced Concrete Conical Tanks under Hydrostatic Pressure


A. Altalmas
Title of Research: Design Procedure of Self-Supported Transmission Towers Under Tornado Loading


A. Dessouki
Title of Research: Analysis and Retrofitting of Low-Rise Houses Under Wind Loading


A. Hamada
Title of Research: Analysis and Behaviour of Guyed Transmission Line Structures under Tornadoes


A. Ross
Title of Research: Application of Tuned Liquid Dampers to Mitigate Wind Induced Torsional Motion


M. Jolie
Title of Research: Use of Aluminium Foam to Enhance the Resistance of Buildings to Blast Loading


G. Hafez
Title of Research: Behaviour of Liquid-Filled Combined Conical Tanks


I. Hussein
Title of Research: Production and Assessment of Rice Straw Ash as a Mineral Admixture for Concrete


C. Ladubec
Title of Research: Non-Linear Analysis of Transmission Line Structures Under Normal and Downburst Wind Loading


R. Rahimi
– co-supervised with M. Nehdi
Title of Research: Effect of Rice Husk Ash on Properties of Concrete and its Bond to Reinforcing Steel and Fibreglass Reinforced plastics


O. Ragheb
– co-supervised with R.M. Korol
Title of Research: Component Testing and Finite Element Modelling of a Standing Seam Roof System


E. Marroquin
Title of Research: Behaviour and Design Procedure for Stiffened and Unstiffened Conical Tanks


L. Tang
– co-supervised with R.M. Korol
Title of Research: Dynamic Behaviour of Liquid-Filled Cylindrical and Conical Tanks


A. Awad
Title of Research: Behaviour of FRP Chimneys Under Thermal and Wind Loads


A. Mikhail
Title of Research: Non-Linear Extension of Laminated Shell Element and Application to FRP Chimneys